June 2023
Congratulations Dr. Grantham!
Radiology, Inc. is honored to be the home of three Fellowship of the American College of Radiology (FACR) designated physicians. FACR is one of the highest honors the ACR can bestow on a radiologist. Only about 15% of radiologists earn a designation of FACR, and they do so by demonstrating significant service to the ACR, organized radiology, teaching, and/or research. The honor of Fellow of the American College of Radiology is conferred on members who have been approved and elected by the ACR Board of Chancellors. Dr. Samir Patel, CCD, DABR, FACR; Dr. Alphonse Harding, FACR, and now Dr. Michael Grantham, FACR have all achieved this esteemed honor.
Below is the pledge taken by those who accept this honor:
Fellowship Pledge
In accepting fellowship in the American College of Radiology, an organization that seeks to exemplify and to develop the highest traditions of the profession of medicine, I reaffirm my determination to place the welfare of my patients before all other considerations in my practice of Radiology.
I will continue:
To uphold the ethical standards promulgated by the American College of Radiology;
To strive constantly to advance my knowledge;
To provide my services freely to those unable to pay for them;
To be sensitive to the needs and aspirations of the society in which I live and practice;
To help advance the status of radiology through teaching of those desirous of learning;
To conduct myself with professionalism in all my practice and interpersonal relations.
Finally, I pledge myself to work to the best of my abilities to advance and extend the influence and service of the American College of Radiology.
---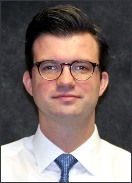 August 2022
Welcome Dr. Alavanja!
Radiology, Inc. - a comprehensive group of specialty-trained Diagnostic and Interventional Radiologists located in South Bend, Elkhart, Goshen, LaPorte and Knox is pleased to welcome a new physician to its practice.
Dr. Aleksandar Alavanja, a board eligible Diagnostic Radiologist, earned his Medical Degree at Indiana University School of Medicine. Dr. Alavanja also completed a Diagnostic Radiology Residency at The University of Chicago, and a Musculoskeletal Imaging Fellowship at The University of Chicago-NorthShore University HealthSystem.
---

Congratulations to Dr. Allison Lamont of Radiology, Inc for being a Doc Who Rocks!
A Rockin' Doc is a physician who brings his or her best to Beacon Health System each day. Associates and colleagues have nominated you for this distinction because you make authentic and trustworthy personal connections to create moments that matter for patients, families and staff members. Here are just some of the reasons why your Beacon team members think you rock:
Dr. Lamont can best be described as knowledgeable, kind, trusted, thoughtful, empathetic, creative, genuine and a team player.
She went above and beyond for a patient when a code was called near our department. She wanted to make sure that the patient was safe.
Dr. Lamont is always trying to think outside the box to solve any issues we are having. She is always trying to teach us and provide resources to help us become better in our work and with our patients.
Dr. Lamont reached out and contacted a patient who had quite a bit of anxiety in response to additional testing being ordered. She went above and beyond to learn the patient's case and attempt to calm this patient's fear.
She always makes sure we are all comfortable doing our jobs as techs — she is always looking out for us. She shows patience, kindness and empathy every day. She is so busy, but doesn't show it when she interacts with us.
Every day, before starting, she takes time and interest in each team member. She asks how we're doing and how our families are as well. She's always tuned into what others are thinking or feeling.
Thank you for your dedication and caring for our patients and your team, Dr. Lamont! You're a Rockin' Doc!
---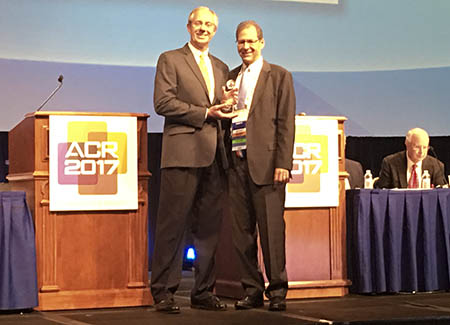 Dr. Harding is the recipient of the 2017 ACR Global Humanitarian Award.
Dr. Harding is being recognized by the American College of Radiology for his service to Andean Health and Development, an organization that is the only rural health provider in Latin American that delivers quality care based on a proven model of self-sufficiency and capacity building. Andean Health also offers the only residency program that trains rural family physicians -- where local faculty train Ecuadorian physicians to work in their own communities. To find out more about Andean Health & Development, please visit their website at andeanhealth.org.
---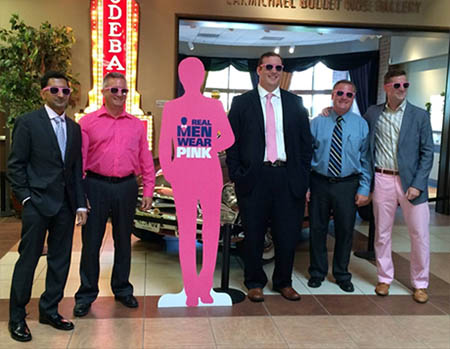 Samir Patel, MD, is rocking the pink, and for a good cause! The American Cancer Society of Michiana selected Dr. Patel, Beacon Health System Breast Imaging Director, to its annual fundraising campaign for breast cancer research.

It should come as no surprise that Dr. Patel would be chosen, as he has helped hundreds of women in the detection and treatment of breast cancer.

"To be among such great community leaders and recognizable individuals in our area is such a privilege," says Dr. Patel. "Seeing so many women who are diagnosed with breast cancer and seeing so many women survive from breast cancer is such a significant part of my life."
---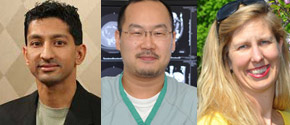 Radiology, Inc. is proud to announce that an article co-authored by Samir Patel, MD, Albert Cho, MD and Allison Lamont, MD was recently published in the Journal of the American College of Radiology. Click here to read the article.
---

Radiology, Inc. is proud to announce that Dr. Michael Grantham will be retiring from the Air Force Reserve on November 1, 2013, after 26 years of service to our country. Dr. Grantham has been a diagnostic radiologist with Radiology, Inc. since July, 2000, and also serves as the Chairman of the Diagnostic Radiology Department at Memorial Hospital of South Bend.
---
A new recommendation from the U.S. Preventative Services Task Force advises that asymptomatic smokers and former smokers at highest risk for lung cancer should be screened with an annual low-dose chest computed tomography scan. The recommendation is only for smokers and former smokers who have quit for less than 15 years, aged 55 to 80, and with at least a 30-pack-year history (for example, a pack a day for 30 years or two packs daily for 15 years). Click here to read the article.
---
Radiology, Inc. is pleased to announce that its lung cancer screening programs at Memorial Hospital of South Bend, Elkhart General Hospital, LaPorte Hospital, Goshen General Hospital, and Memorial Lighthouse Medical Imaging have all been certified as Designated Lung Cancer Screening Centers by The American College of Radiology.

To become an ACR-designated Lung Cancer Screening Center, a clinic or hospital must have already been accredited for chest CT scans by the ACR and meet certain technological, physician supervision, and lung cancer screening clinical date requirements. The designation is specific to each CT unit.

This designation means that the facilities indicated will be able to provide lung CT scans to check for cancer in eligible high-risk patients. If considered high-risk, patients who are smokers or former smokers (especially between the ages of 55 and 80) will be able to receive free screenings once a year in an effort to detect lung cancer before symptoms arise. Radiologists reading the CT scans will look for nodules in the lungs or any other kind of abnormality that could become cancerous. Lung cancer screening, similar to mammography or colonoscopy, provides hope in treatment and cure due to the increased potential for early detection due to screening.

To schedule an appointment at Memorial Hospital of South Bend or Memorial Lighthouse Medical Imaging, please call (574) 647-7700.

To schedule an appointment at Elkhart General Hospital, please call (574) 523-3444.

To schedule an appointment at Goshen General Hospital, please call (574) 364-2400.

To schedule an appointment at LaPorte Hospital, please call (219) 326-2444.
---

Taking the Lead
Samir B. Patel, MD, created a document to safeguard his practice's contract. What he didn't realize is he'd started a national conversation on value.

Click here to read the article.

---
Medical Group Merger In Response
to Changing Healthcare Market

Radiology, Inc. and LaPorte Radiology, Inc. are pleased to announce that they will combine operations effective January 1, 2016, and operate under the name, "Radiology, Inc." The two practices, consisting of over 35 radiologists, will be the largest private radiology practice in the Michiana area and will service five hospitals and several outpatient clinics in the Elkhart County, LaPorte County, Starke County, and St. Joseph County areas. When the combination is complete, Radiology, Inc. will offer its patients, hospitals, clinics and referring physicians the broadest range of sub specialty radiology services in the area including Breast Imaging and Intervention, Nuclear Medicine, Neuroradiology, Pediatric Radiology, as well as Interventional Radiology Procedures. Dr. Smari Thordarson, President of LaPorte Radiology, Inc. said, "The broader service area will enhance the combined group's ability to recruit needed subspecialty trained physicians which, formerly, might only have been possible in a larger metropolitan area."

Dr. Pedro Miro, Chair of the Executive Board of Radiology, Inc. said, "Healthcare is changing on a national and local level. We feel this combination properly positions our practice to better meet the demands of the future, while still providing exceptional value, sub-specialty expertise and high quality medical services to our community at large."

For more information,
please contact Sheila Witous at (574) 258-1100
---
MD Anderson Cancer Center The U.S. Preventive Services Task Force has issued a draft recommendation supporting the use of low-dose CT scans to screen past and current heavy smokers for lung cancer.

"The U.S. Preventive Services Task Force's recommendation is a great step forward for this life-saving screening," says Reginald Munden, M.D., professor of Diagnostic Radiology at MD Anderson Cancer Center.

The recommendations, if implemented, will mean that all health insurance companies will be required to cover the cost of this groundbreaking lung cancer screening method for current heavy smokers ages 55-80, as well as former heavy smokers who have quit smoking in the past 15 years.
---
Mammography
Screening is recommended in women ages 40 and older every year.

The Mammography Saves Lives campaign provides this video explaining the importance of regular screening.
---
---
Mammograms Save Lives

Criticism of breast-cancer screenings is more about rationing
than rationality.
By Daniel B. Kopans
May 22, 2014 7:14 p.m. ET
>>click here to learn more

---